Save Code Share! Sign the Open Letter
Submitted by fcouchet on 26 April, 2018 - 16:56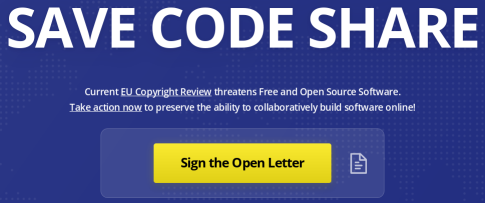 Free software development as we know it is being threaten by the proposed review of the European Copyright Directive. After many delays, the Legal Affairs Committee (JURI) of the European Parliament will vote in June 2018 (20 and 21).
To learn more read Censorship machines are coming: It's time for the free software community to discover its political clout written by Julia Reda, Member of the European Parliament.
Take action now to preserve the ability to collaboratively build software online by reading and signing the open letter "Save code share".
Nous soutenir

Adhérez dès maintenant à l'April
Faites un don ponctuel