Reset The Net - After Snowden: Prioritising Free Software and Encryption
Submitted by fcouchet on 5 June, 2014 - 08:54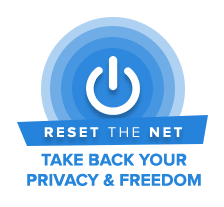 A coalition of nearly forty companies and civil-liberties groups has announced a new day of action against mass surveillance, for the first anniversary of Snowden's revelation, this Thursday, June 5th, 2014: Reset The Net.
To celebrate this anniversary, please read this article, signed by Lionel Allorge, April president, and Frédéric Couchet, April executive director, and published in February 2014 in the popular French newspaper Libération: "After Snowden: Prioritising Free Software for Computing You Can Trust".
You can also Reset the Net with the Free Software Foundation's email self-defense guide. Email encryption is a simple way to give yourself a shield that can protect you and your community from the giant surveillance system we all face. If you need any proof of the effectiveness of these tools, remember that Snowden used them to leak his precious information safely. Many effective shields, wielded well and held together in solidarity, make a strong wall. The Email Self-Defense Guide will lead you all the way through the process of sending and receiving your first encrypted email.
Check out the guide, and get started encrypting your email!.
Together, let's keep on building free computing!
Nous soutenir

Adhérez dès maintenant à l'April
Faites un don ponctuel