Position on bundled sale
Submitted by mchauvet on 27 March, 2009 - 16:15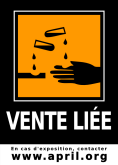 April opposes the forced sale of an operating system with a computer. Recalling that this "bundled sale" is illegal [under French law], April stresses that this practice requires for many consumers to pay a software they do not want, including users of free operating systems.
You can see our our page devoted to this issue..
Don't forget to sign "No to the racketware we are forced to buy".
Nous soutenir

Adhérez dès maintenant à l'April
Faites un don ponctuel