Happy birthday to Richard Stallman
Submitted by tboyer on 16 March, 2013 - 10:56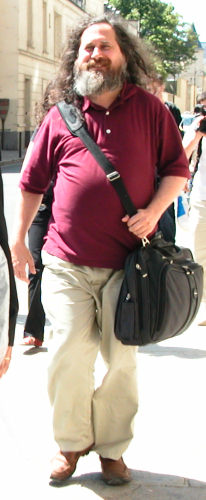 Richard Stallman turns 60 this Saturday , March16th, 2013. At the origin of the Free Software movement, about thirty years ago, he is the founder of the GNU Project and of the Free Software Foundation. Today, Richard Stallman is still a tireless activist for Free Software, whose philosophy he defines in three words: « Liberty, Equality, Fraternity »1
In the introduction to the book Free Software, Free Society: Selected Essays of Richard M. Stallman Lawrence Lessig wrote "Every generation has its philosopher—a writer or an artist who captures the imagination of a time. Sometimes these philosophers are recognized as such; often it takes generations before the connection is made real. But recognized or not, a time gets marked by the people who speak its ideals, whether in the whisper of a poem, or the blast of a political movement. Our generation has a philosopher. He is not an artist, or a professional writer. He is a programmer."
April is pleased to have been working with Richard Stallman for almost seventeen years, and we wish him a happy birthday.
To learn more about Richard Stallman, you can visit his personal Web site, the philosophy page of the GNU Project, read the books Free Software, Free Society: Selected Essays of Richard M. Stallman, second edition and Free as in Freedom (the latter coauthored with Sam Williams and available in French, as Richard Stallman et la révolution du logiciel libre : Une biographie autorisée).
Translation of the French original version by : Thibaut, Tanguy, Jeanne.
Nous soutenir

Adhérez dès maintenant à l'April
Faites un don ponctuel