For French Deputy Sabine Rubin, the Copyright Directive Endangers Code-Sharing Platforms
Submitted by tgodefroy on 30 April, 2018 - 18:35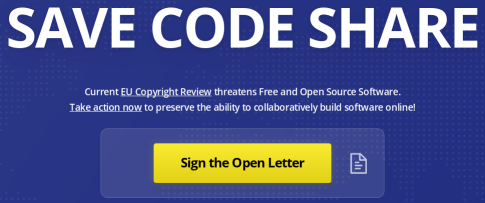 In a written question [in French, see below for translation], officially published February 6th, 2018, Member of the French Parliament Sabine Rubin (France Insoumise party) challenges the Minister of Culture, Françoise Nyssen, on the dangers that article 13 of the proposed European Copyright Directive revision entails for code-sharing platforms and free software communities.
In her question, the Member of Parliament mentions the Save Code Share campaign, initiated by the FSFE (Free Software Foundation Europe) and the OFE (Open Forum Europe) in September 2017, and supported by April. This campaign sheds light on the dangers that Article 13 of the proposed Copyright Directive revision brings upon code-sharing platforms and free software communities.
As shown by the white paper that was written as part of this campaign, calling into question the principle of non-liability by default for technical intermediaries "giving access" to copyrighted content — such as code-sharing platforms — could have a serious impact on free software, and more broadly on the preservation of a free and open Internet.
It should be noted that the French government has given its full support to the European Commission's text, as MEP Julia Reda points out on her website.
We look forward to the Minister's explanations, and invite her to answer this written question before the vote that should take place in the Legal Affairs Committee (JURI) on the 20th or 21st of June, 2018.
Question n°5128 by Mrs Sabine Rubin, addressed to the French Minister of Culture: Free software as a guarantor of security

Mrs Sabine Rubin draws the Minister of Culture's attention to Article 13 of the proposed revision of the Copyright directive, which is currently being examined in the European Parliamant. This article would mandate hosting platforms to set up "content-recognition technologies" for "subject-matter" uploaded by their users. This measure has raised much criticism with respect to both its compatibility with European law and its implications on Internet's freedom and openness.

More specifically, several non-profits specialising in free software and digital freedom issues are expressing concern about the impact that such a measure would have on code-sharing platforms. These platforms host content — source code — subjected to copyright and uploaded by the users. Developers — authors of the source code — publish their works on the code-sharing platforms under "free" licences which allow free distribution and free modification. These freedoms are granted to other members and users, and are inherent to the "agile" development process of free software. An automated content-recognition system would act against the will of those whose rights it is supposed to protect, while running the risk of seriously curtailing the innovation and reactivity of free-software projects.

A vast majority of the technologies we use — the web and phones are common examples — include many free software based components. An indisputable principle of IT security is that a software product will be all the more secure that it receives more frequent updates and its community of developers is more reactive. Hence, any burden on free software development is a burden on overall IT security. Considering that any hindrance to the functioning of code-sharing platforms would bring about significant risks in terms of information security and innovation potentiality, she would like to know how she [the Minister] intends to ensure the sustainability of code-sharing platforms.

Translation by April
Nous soutenir

Adhérez dès maintenant à l'April
Faites un don ponctuel