April is celebrating its 18th anniversary - Share the reasons why you love and support April
Submitted by april on 19 December, 2014 - 14:07
in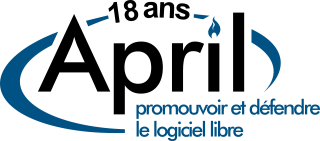 April was registered as a nonprofit on November, 1996, at the Bobigny prefecture, and it's creation was announced in the Journal Officiel's issue n°51, from December 18th, 1996.
The association is thus celebrating it's eighteenth birthday!
Eighteen years of action to promote and defend free software, and to participate actively in [increasing] public awarenesss that freedom in computing is a social social. But also eighteen years of lasting friendships forged during picnics, brainstorms to stimulate the imagination, to create T-shirts, to think up April Fools' Day pranks, to exchange a lot of datalove ♥…
Share the reasons you love and support April
Share with us testimony, a comment, an anecdote [French] about the association or about free software and/or explain in a few words why you love/support April.
Your support will be the reward of people who, through their activism, each day sustain April.
Let's celebrate April turning eighteen
For this birthday, several cocktails hours have already been planned in France (Reims, Coupelle Neuve, Lille, Beauvais, Paris). Please contact us if you would like to organize an April aperitif in your area. other events will be organized in early 2015. And, of course, see you at the association's next general assembly, on February 7th, 2015.
Nous soutenir

Adhérez dès maintenant à l'April
Faites un don ponctuel