26 Free Software to be discovered
Submitted by mchauvet on 23 March, 2011 - 23:00
Download the different versions
(in French)
Catalogue presentation
On December 2nd 2010, April published a catalogue of Free Software called "Free Catalogue: 26 free software to be discovered". The stake of this guide is twofold. On the one hand, it introduces free software corresponding to everyday uses of the computer, for example: "play a video" in reference to the famous VLC media player. On the other hand, the catalogue was written in a perspective of promotion, its content is enhanced with series of texts, detailing the stakes related to free software and other pertaining subjects.
To allow people discovering Free Software not to be lost by the large choice of available applications, this catalogue offers a first selection of software for the general public, selected for their quality and sorted by theme (Multimedia, Office, Education, Internet). This document will complete an ever-increasing list of tools, providing to all readers the keys of their digital freedom.
Content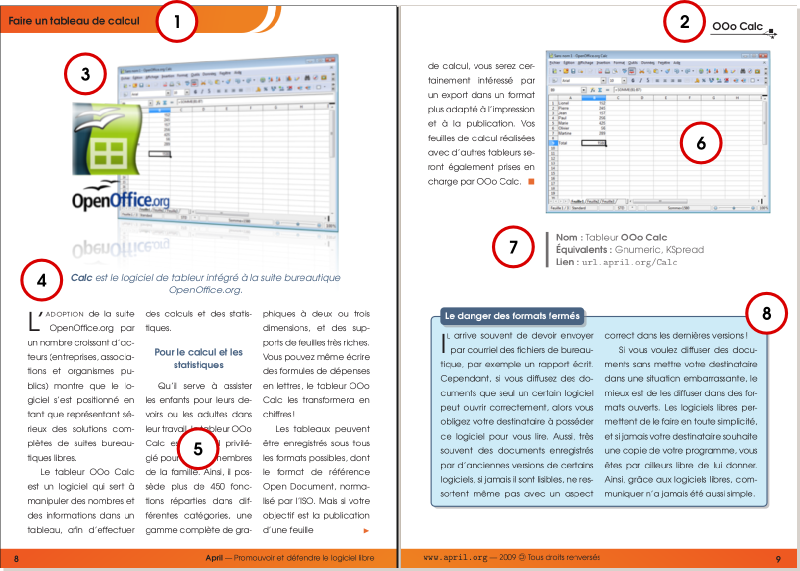 The catalogue's pages are described as follows:
Uses of the presented software.
The software's short name
A logo and a screen shot
A summary of the functions
Description of the software
A second screen shot
Additional information: full name, equivalent pieces of software, link to download.
Insight on the stakes regarding to Free Software and related topics.
Furthermore, other pieces of information are provided at the end of the document:
A text summarizing the stakes around Free Software.
A glossary.
Links to continue discovering the topic.
Back cover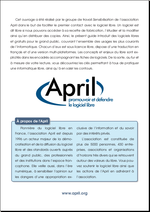 This document has been conceived by April's Raising Awareness working group, with the purpose to facilitate one's first contact with the Free-related philosophy. A software is said to be Free if anyone can access its recipe, study it, modify it as well as distribute copies. Thus, this booklet presents to the general public Free and gratuitous pieces of software, covering all the most common computing needs. Each one is under a Free license, is translated in French and is available under several platforms. The concepts and stakes of Free Software are explained in notes accompanying the software's description. That way, as you read the booklet, you'll discover the keys that will allow you to have a Free use of computing, as well as understand its borders.
The circulation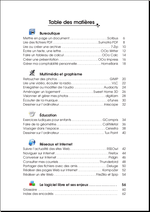 This catalogue is distributed under a digital format but we also would like to print it. One of the advantages of a paper catalogue is to allow its circulation on the occasion of different events we'll participate (conferences, fairs, etc). Moreover, the accessibility given by a paper catalogue will permit to reach more people, notably those who met difficulties to access the Internet.
To meet this goal, we are considering a wide-scale colour printing of the catalogue, through a group order. Open to all those who wish to contribute promoting Free Software (individuals, associations, public authorities, companies), the Free Catalogue will be soon printed and distributed at a wide scale.
To go further
The Free Catalogue project is always evolving. You are more than welcome to contribute to its evolution. Don't hesitate to talk about it on the Raising Awareness mailing list .
The project's work page is on our wiki: Free Catalogue.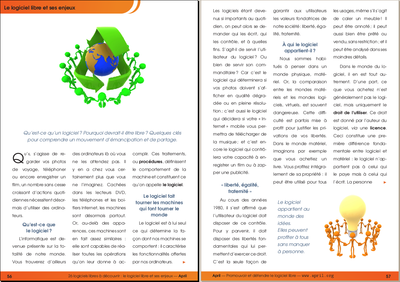 Thanks
Thanks to Islem Abd-el Rahman, Lionel Allorge, Agnès Le Béon, Frédéric Couchet, Gilles Coulais, Olivier Fraysse, Vincent-Xavier Jumel, Eva Mathieu, Éléonor Naudeau, François Poulain, Benoît Sibaud, and Rayna Stamboliyska for their support and their valuable contributions. Thanks to the many other contributors, some anonymous, that gathered around April's Raising Awareness working group to participate to the improvement of this document by finding and correcting mistakes. Thanks also to April's other working groups for their collaboration and their expertise.
Thanks also to the associations, such as Framasoft, Wikimedia or Ubuntu-fr, which assisted us at different moments of this project.
Finally, let us not forget the many contributors to Free Software and Free resources who every day keep alive our passion and allow the improvement and the sharing of a verily titanic amount of knowledge. To all, we dedicate our work, made available in turn under a license that allows every one to make it its own.
License
You are encouraged to use, copy, distribute and modify this document under the terms of at least one of the following licenses: Art libre 1.3 (or any following) license, Creative Commons By Sa 2.0 (or any following) license and GNU Free Documentation License 1.3 (or any following license).
The extent of the permissions offered by these licenses doesn't cover either the logos, which remain the property of their respective owners, nor the external media used to create this work. The list of these elements is included in the archive containing this work's sources. A copy of the licenses is also included. The trademarks mentioned belong to their respective owners.
Return
Return to the page about raising awareness documents.
Nous soutenir

Adhérez dès maintenant à l'April
Faites un don ponctuel